---
Revised RCP Orientation Learning Modules – The Reproductive Care Program of Nova Scotia has produced a series self-directed learning modules for nurses working with childbearing persons, newborns and families throughout Nova Scotia. The resources are intended to compliment, not replace, existing maternal-newborn education and orientation programs. RCP has recently updated the following modules and they are available for viewing on the RCP website. As modules are revised they will also be available on the provincial Learning Management System (LMS).
RCP Webinar Series – RCP offers webinar education on a variety of perinatal topics appealing to care providers working in all areas of maternal and newborn health. Previously recorded webinars can be accessed and viewed at your leisure on the RCP website.
Upcoming Webinars include:
Wednesday, June 1, 2022 (12:00 to 13:00 via Microsoft Teams)
Support of the Neonate Awaiting Transport
Presented by Jessica Carew, LifeFlight
Additional details and registration to follow
Watch the RCP website for details regarding future topics, learning objectives and registration information for future sessions. Suggestions for future topics are always welcomed. Please send your suggestions via the RCP email: rcp@iwk.nshealth.ca

The 'New' RCP NS Prenatal Record – An extensive revision to the RCP NS Prenatal Record (PNR) is complete! We are excited to share that the new PNR will be released and available for use in a paper format in the early weeks of May. We anticipate that there will be a period of transition for care providers as they shift to utilizing the updated PNR for documentation of antenatal care. Be watching for a paper supply of the PNR to be sent to your practice. A sample of the PNR and the accompanying Companion Document can be viewed here.
Note: Development of the PNR within the two EMR systems will occur in the coming months for care providers who utilize the PNR electronically
Revised Guidelines for Antenatal Testing & Screening
The RCP Guidelines for Antenatal Screening and Testing have also undergone an extensive revision to align with current evidence and best practice standards as reflected within the updated PNR. These guidelines will serve as a helpful resource and quick reference guide for care providers related to recommended antenatal screening and testing. The guidelines are available on the RCP website and also in a convenient printable card format. Laminated copies of the revised guidelines will also be sent to care provider offices in the coming weeks.
Sexual Health After Childbirth Resources – A number of postpartum sexual health after childbirth resources are posted to the Reproductive Care Program website. They can be found under the 'Practice Resources' tab, 'Postpartum' section of the RCP website.  
Needs Assessment: Trial of Labour After Cesarean Resource - RCP is seeking your input to enhance the existing provincial tools available to support care providers when having discussions with patients about birth options for persons who have had a previous cesarean birth. Please take a few moments to provide your feedback by answering the questions in a short survey found on the RCP website. Responses should take no more that 5-10 minutes.
---

Neonatal Behavioral Observation Webinar – Nova Scotia Early Childhood Development Intervention Services and the IWK Infant Mental Health Clinic is offering a free live webinar related to newborn behavior. The session is titled: Relationship Building as Prevention, May 10, 2022 10:00 am - 4:00 pm (AST) via Zoom. To register for the webinar click here.
---

SOGC Updated Statement on COVID-19 Vaccination in Pregnancy – The Society of Obstetricians and Gynecologists of Canada has revised and reaffirmed their statement on COVID-19 vaccination in pregnancy. To read the full statement click here.
---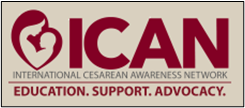 April is International Cesarean Awareness Month - Cesarean Awareness Month is organized by The International Cesarean Awareness Network (ICAN). ICAN is a non-profit organization whose mission is to improve maternal-child health by reducing preventable cesareans through education, supporting cesarean recovery, and advocating for vaginal birth after cesarean (VBAC). For more information see the ICANS website.
---

Recent Publications of Interest - Several publications have been recently released and are now available for your review. The titles with links have been provided below for your information and reading enjoyment:
---
Feel free to share the RCP's e-News with your colleagues.
If you have any questions or comments, please contact the RCP office at rcp@iwk.nshealth.ca.
Manage your RCP e-News subscriptions